Trash & Recycling Collection
The Town contracts with Advance Disposal for rubbish and recycling collection services. They would like to remind customers of current policies.
~ Garbage and recycling carts should have at least 5 feet of separation between containers, allowing easier pick up of garbage carts.
~ Carts should be set out early morning of the assigned pick up date.
~ Carts must be removed from Town ROW within 24 hours of garbage or recycling pickup.
~ All garbage should be properly bagged.
~ Advance Disposal collects with two separate trucks, one for garbage and another for recyclables.
~ Recyclables: please use the blue-lidded recycling cart to its fullest potential.
~ Do not recycle plastic grocery bags or place recyclables in plastic bags. Doing so jambs the recycling machines and greatly reduces the efficiency of the recycling process.
~When a holiday occurs during the week (Mon thru Fri), all curbside pickup is delayed one day; New Year's Day, Memorial Day, July 4, Labor Day, Thanksgiving, and Christmas Day. If the Holiday is on the weekend (Sat or Sun), curbside pickup is not delayed one day, it will be on Friday as normal.
MORE RECYCLING NEWS
As part of the Tri-County Recycling program all residents of Brown County can recycle more materials than ever before. The following guideline provides a concise summary of what everyone should be recycling.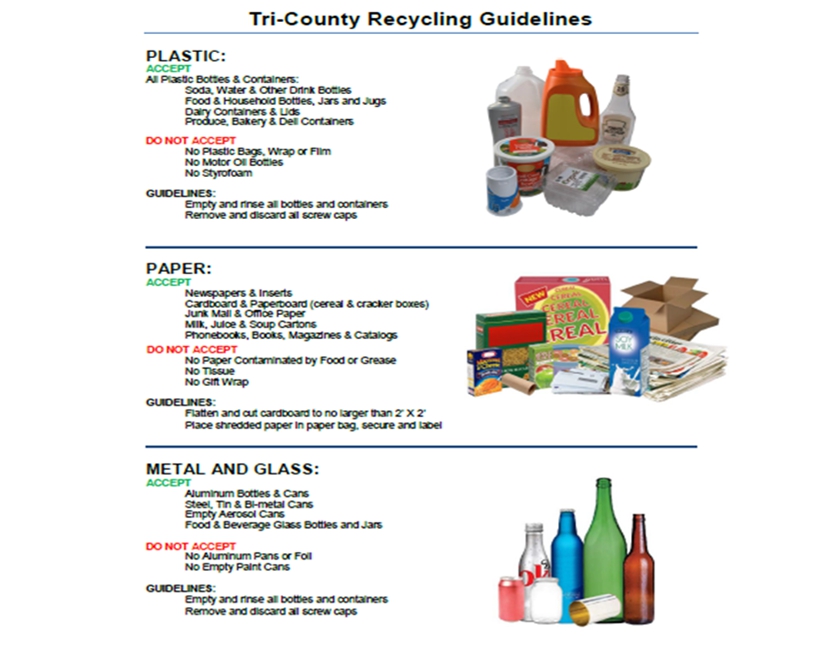 Click on Household Hazardous Waste for information.
The State of Wisconsin Dept. of Natural Resources has banned many household items from landfill disposal (including electronic items, oil, oil filters, etc.). This ban includes businesses and residential properties (see DNR website for banned items: http://dnr.wi.gov/topic/Recycling/Banned.html
The following locations will take electronics for recycling:
Brown County HHW Facility
2561 South Broadway
Green Bay, WI 54304
920-492-4950
Best Buy
825 Pilgrim Way,
Green Bay, WI 54304
920-494-2950
Lamp Recyclers, Inc.
3055 Holmgren Way,
Green Bay, WI 54304
920-403-1166
Milwaukee PC
1683 E Mason St.,
Green Bay WI 54302
920-465-4430
At the Brown County Facility all types of residential electronics are accepted. Hours are: Thursdays Noon – 6 pm and Saturdays 8 am – 2 pm. For more information for more information check the County website:http://www.browncountyrecycling.org
To find other recycling options in your community, see the Wisconsin Recycling Markets Directory https://www.uwgb.edu/solid-hazardous-waste-education-center/ on the U.W. Cooperative Extension Solid and Hazardous Waste Education website.
Two options for removal of appliances and other items: Call the Town's garbage / recycling hauler Advance Disposal at (920) 983-3341 or J & S Services (920) 883-0140.